Following a recent case outlined by Russell Kennedy Lawyers concerning a dismissal involving personal texting at work, HR Leader considered the evolution of personal communication during working hours.
For many in the workforce, having a personal mobile phone on hand has always been the norm. But this wasn't always the way people worked. Before the advent of mobile phones, employees may have shared an office landline number with their family or friends for personal calls, but it was generally accepted that this was used for urgent calls only. With the phone being tied to the desk, most workers (especially those in an open plan environment) wouldn't take personal calls for extended periods of time because it would be visible to their colleagues.
But the widespread use of mobile phones made it much easier for employees to mix work with their personal life. In the early days, people may have brought a mobile phone to work, but left it off and in their bag during working hours. These days have passed with most people now keeping their phone on the desk beside them. And it's not just phone calls that employees have access to via a mobile phone: it's text messages, social media and much more.
So HR and line managers now have to find the balance between an acceptable level of personal mobile phone use with keeping employees focused on their work. Add into the mix that some employees are now working from home part or all of the time, and it's even more challenging for businesses to know if employees are overdoing it with personal communications during work time.
Most managers would agree that the ship has well and truly sailed on trying to eradicate personal mobile phone use during working hours. So, the conversation needs to shift to being less about the amount of time an employee spends on their personal device (because it's impossible to control), and more about whether they are fulfilling their roles and responsibilities at work. It becomes a performance conversation.
The Evolution of Leadership Report 2022 by The Access Group and HR Leader examines the best way to work: task focus versus output focus versus outcome focus. Homing in on outcomes was the top response by those surveyed, with 59 per cent saying it gave the best results. This was followed by 29 per cent thinking a mix of approaches works best.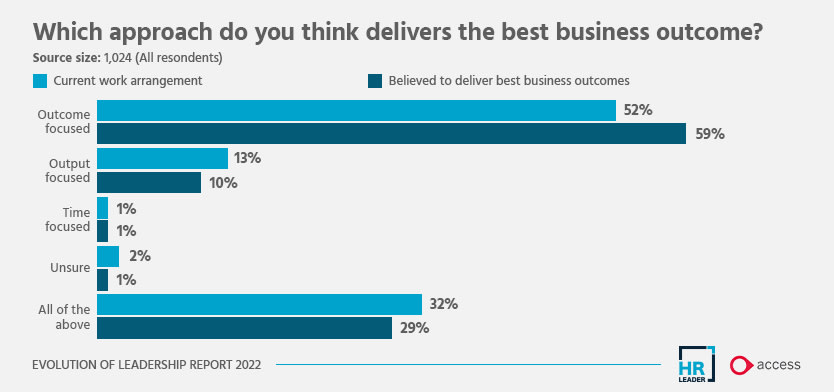 Where line managers and HR may run into difficulty with focusing on outcomes is when someone is very new to a role and needs guidance on what tasks to complete in order to achieve desired results. If close management is needed like this, the employee may require help organising their time and the 'personal device use' conversation may again rear its head. 
Coming down hard on someone and telling them they can't make personal calls or texts during work hours is unlikely to endear the organisation to the employee. A more productive conversation would focus on what the organisation needs the employee to achieve and suggesting that the employee be mindful of personal calls etc., so they don't interfere with productivity. This way the conversation is less about the employee and more about results.
You can find out more about the case noted above here: Excessive texting at work a valid reason for dismissal