This month, the United Nation's Equal Pay Day fell on 18 September, and it was a timely reminder for all Australian employers to end the pay gap between men and women. However, new data from the OECD reveals we are doing much better than many other nations.
International Equal Pay Day, which was celebrated on 18 September, represents the longstanding efforts towards the achievement of equal pay for work of equal value. The day further builds on the United Nations' commitment to human rights and against all forms of discrimination.
Across the globe, women are paid less than men, with the gender pay gap estimated at around 20 per cent worldwide, though it sits lower than that in Australia, at around 13 per cent, according to data from the Australian Bureau of Statistics (ABS). Progress on narrowing that gap has been slow, and generally speaking, employers must be more transparent about what they pay men and women, especially those in the private sector.
While equal pay for men and women has been endorsed by governments in Australia, applying it in practice has been difficult. The gap reflects long-held biases and inequality in workplace cultures and recruitment practices, which need to be removed entirely from workplaces, even if employers are forced to act by governments.
Moving in the right direction
However, some good news is emerging, and we are moving in the right direction. The gap in average weekly ordinary full-time earnings fell in May to 13 per cent, the lowest on record, according to the ABS. But work still needs to be done. Across the workforce, average weekly ordinary time earnings for full-time working women were $1,715 in May 2023 while men, on average, earned $2,035, that is, $320 more per week than their female colleagues, or around $16,600 each year, according to data from the ABS.
Importantly, Australian women are doing better than their peers in other developed nations. The chart below from the OECD shows Australia now leads many other developed nations with a narrower gender wage gap and below the OECD average at around 12 per cent (using median wage levels) – a big contrast to the gender wage in Korea, where it is the widest among OECD nations at around 31 per cent and Israel where it is around 25 per cent. The gender gap is also much wider in the US at around 17 per cent and in the UK at around 14.5 per cent.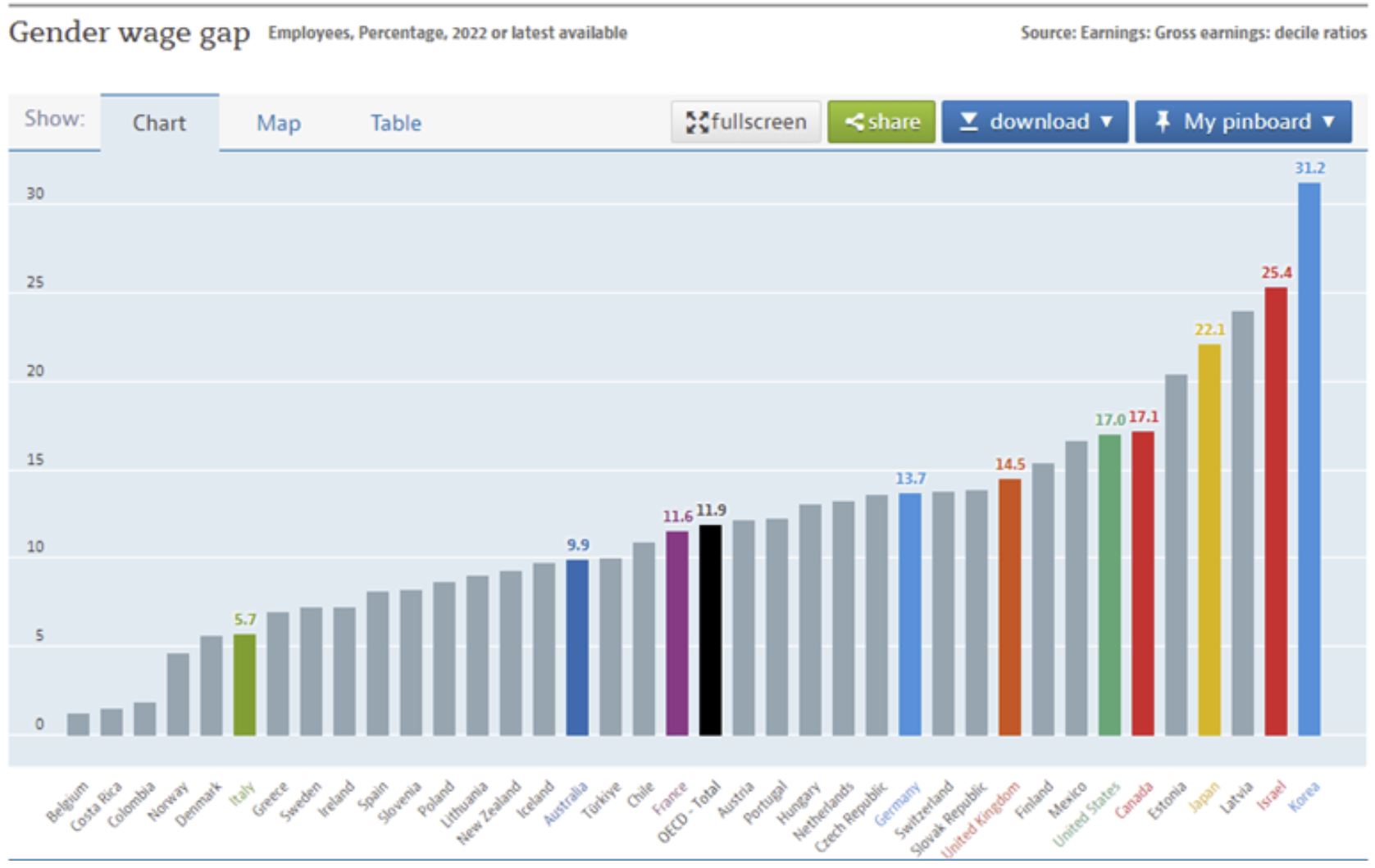 Source: OECD
While progress has been made in Australia, achieving equal pay remains an important milestone for gender equality in the workforce. It will take the effort of all employers and the government to eliminate the gap.
If they don't already, all employers, large and small, should start with a pay audit and publish the results. Pay transparency enables organisations to identify and address gender pay gaps. A pay audit can also deliver very valuable information to women that can be used in their negotiations for fair and equal pay with men.
Employers may also need to re-examine their payment rates. Many women work part-time, so the choice of full-time, part-time or casual employment shouldn't affect the rate of pay women get. Yet casual workers, most of whom are women, are often penalised with lower payment rates or reduced benefits, which contributes to the gender payment gap. Such discrimination needs to be removed from remuneration processes.
Existing laws don't go far enough, either. Currently, only employers with more than 500 employees must have a policy or strategy in certain areas to support gender equality. This is not strict enough to drive change in Australian workplaces and does not require any employer to demonstrate what progress they have made. The Workplace Gender Equality Act 2012 separately requires Commonwealth public sector employers that employ 100 or more employees in total to register for the Public Sector Reporting program and submit data annually.
However, these laws do not apply to smaller employers. Minimum standards need to be strengthened to apply to all employers of women working in all sectors of the economy as a mechanism for accelerating the rate of change towards gender pay equality. Through such mandates, concrete achievements in closing the gender pay gap once and for all can be made.
By Kris Grant, chief executive, ASPL Group
RELATED TERMS
Gender pay gap
The term "gender pay gap" refers to the customarily higher average incomes and salaries that men receive over women.